A Night at the Blue Swallow Motel
In November 2022, I spent four nights in Tucumcari, New Mexico at the Blue Swallow Motel.  The Blue Swallow is a classic Route 66 motel, with a neon sign that has been prominently featured on book covers, beverages, t-shirts and more.  The Blue Swallow opened in 1940 and has been a stalwart along Route 66 for decades.  The motel features a "motor court" style with garages next to each room.  The opening of I-40, which supplanted Route 66, forever changed the dynamic with fewer travelers taking the exit and entering town.  Over the ensuing decades, many motels and businesses have disappeared, but the Blue Swallow has persevered.
I wanted to create a series of images that might show what it looks like to arrive and stay at the Blue Swallow.  I ended up with five images which I presented on Instagram like this:
For the first image, I used one of the vintage cars that are on the property.  The owners were kind enough to let me open the door of the car and shoot a photo of the neon sign through the car's windshield.  I used the flashlight on my smartphone to illuminate the steering wheel and dashboard cluster.  I was hoping to have a photo that showed what it might have looked like to arrive at the motel in the dark, behind the wheel of a vintage car.
After arriving, you get out and step back to take a look at the incredible neon sign and office of the Blue Swallow.  There always seems to be a classic car parked here, as well.
Heading toward the rooms, we notice the red glow of the neon reflecting off the blinds that cover the windows.
We insert the key (no fancy keycards here) into the lock on our room, #3, and push open the door.
We're greeted with a room that hearkens back to an earlier day, with period light fixtures, bathroom, artwork.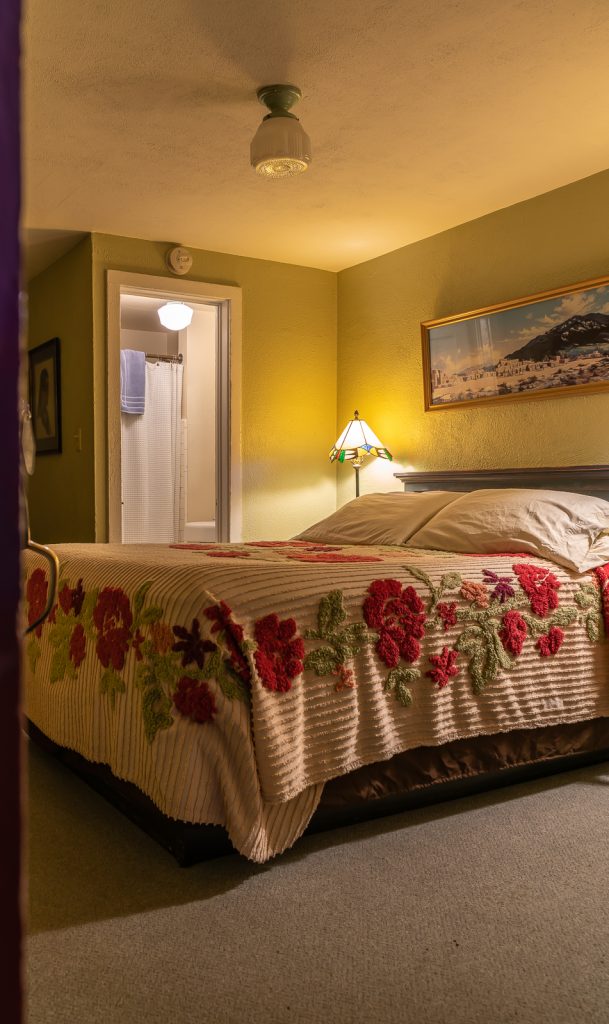 The bed was quite comfy, and the comforter warm.  The room had its own miniature furnace in the wall, which was needed on those cold November nights.  I ended up spending four nights as I photographed the local motels and other buildings.  If I were ever in the area again, I'd stay here again in a heartbeat!