The Chicago Skyline From Michigan City
A few times a year I travel to Michigan City, which has the closest lighthouse and Lake Michigan access to my home.  I have seen other photographers post photos of Chicago, as seen from Michigan City, and this was something I wanted to try as well.  Sometimes it is too hazy, but on clear days you usually make out the taller buildings on the skyline.  If you get a good sunset, it will back light the buildings and make them even more visible.  Of course, Chicago is over 30 miles away from Michigan City across Lake Michigan, so you need a big lens (probably 600mm or longer) to attempt this photo.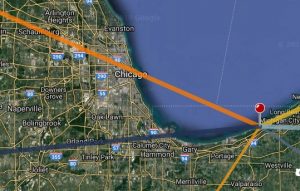 I was keeping an eye on the weather, and saw that the upcoming weekend was going to have clear skies.  I decided to make the trip.  I used the Photographer's Ephemeris to line up a good place to stand so that I'd get the setting sun in the photo.  I would need to be in the Indiana Dunes National Park, somewhat near Kemil beach.  In the map to the right, the pin represents where I stood, and the orange line is where the sun will set.
When I arrived, I was able to clearly see the skyline, so that was a good sign.  As the sun dropped lower and lower, it became clear it was going to be a good sunset.  I had hoped to get the sun directly behind the Sears/Willis tower, but my spot was just slightly off.  I had to settle for the sun setting next to it.  I had a Sigma 150-600 lens with me, and I was shooting at the full 600mm.
After the sun was under the horizon, I kept taking photos.  I used the crop mode on my camera to extend my reach to 900mm, which zoomed in a bit more.  I was even able to capture planes flying in and out of O'Hare International Airport.
I was excited to get these photos.  They definitely have a weird, post-apocalyptic feel to them, and are not my typical style.