Fall Sunrise at Portland Head Lighthouse
Last week, I took a fall trip to New England to try and photograph some fall color.  We flew into Portland, Maine and then traveled into the White Mountains of New Hampshire.  We found the fall colors in New Hampshire to be somewhat subdued, possibly due to an overly wet summer.  We also arrived shortly after a tropical depression had knocked a lot of leaves off the trees.  Still, we had a great time, and I will be sharing some photos from New Hampshire and Vermont in future posts.
On the last morning of the trip, I was in the Portland area and decided to go to Portland Head Lighthouse for sunrise.  The lighthouse is located inside Fort Williams park, which opens at sunrise.  Thankfully, the gate is often open 30-45 minutes prior to sunrise, so it is easy to get in for a sunrise photo.  As the sun crept closer to the horizon, there wasn't much color in the sky.  While it was a pleasant sunrise, it lacked the "wow" factor that low clouds or bright colors bring.
After the sun crested the horizon, I searched for some other compositions. I had noticed that lots of the local wildflowers and plants had gone to seed and were displaying some fall colors of their own.  I placed the native plants into the foreground of a photo and used a sunstar peeking out from behind the lighthouse to illuminate the vegetation: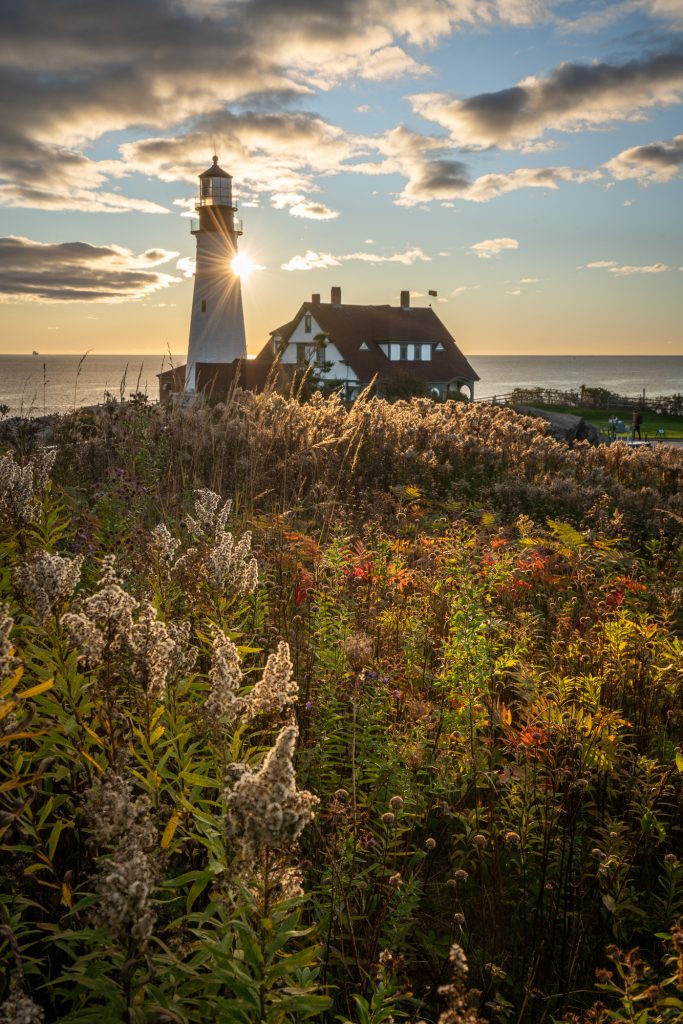 This ended up being my favorite photo of the morning.  I'll probably share a more traditional sunrise photo in a future post.