It was about this time two years ago that I took a trip to the Palouse.  The Palouse is an area in south eastern Washington that has wonderful rolling hills and small towns.  It's a photographic gem, and a place few have heard of.
I flew from Indianapolis to Spokane Washington, via Denver.  As the plane descended into the airport, we passed over a canola field.  Canola has a bright yellow flower, and it was unlike anything I had seen before.
Later that day, I was high up on Steptoe Butte, near Colfax, Washington and I could just barely see the field far away to the north east across the hills.  It was somewhere near Tekoa, Washington.  I decided to try and find it the next day.
The next day, I made my way toward Tekoa, and as I got closer, I started looking for gravel roads that led up to the top of hills.  From the top of a hill, I spied the field again — I was getting close, so I kept headed in that direction.  I ended up on a dirt road, one that wasn't in great condition.  I crept up to the top  of the hill in low gear, and in front of me, the canola field.
It spread across what looked like miles, bright yellow.  It was quite unlike anything I'd seen before.  I've seen yellow sunflower fields — but in those fields, each plant was more distinct.  This was more of a carpet of bright yellow.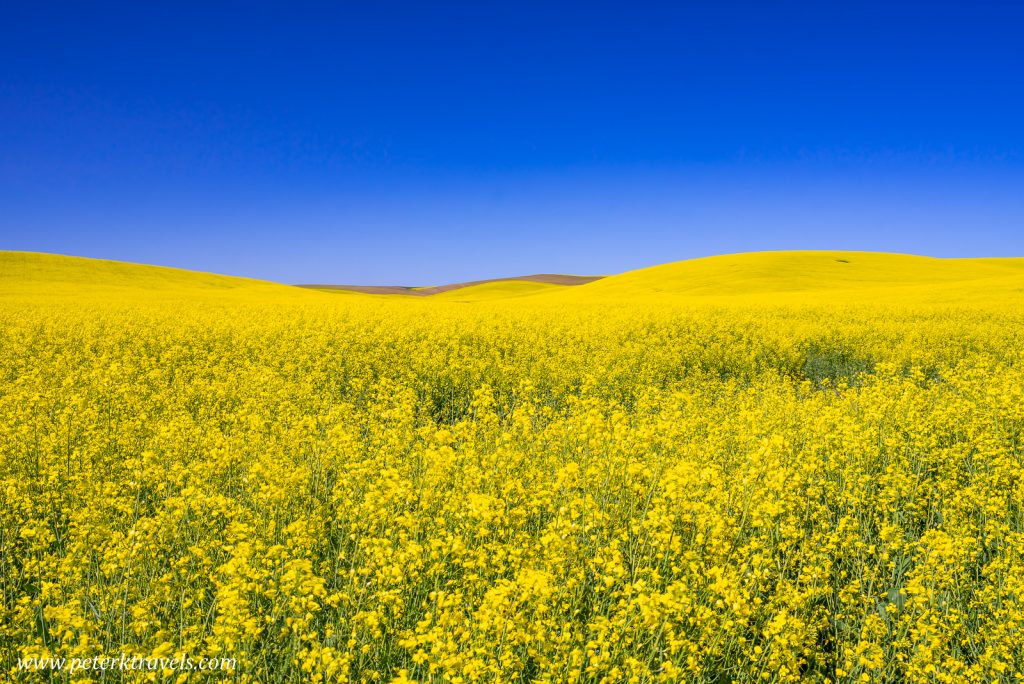 I'm hoping to revisit the Palouse, potentially this year if we're able to travel.  Having already visited early in the growing season, I'd like to visit around harvest time in early August.