Sunset in Doelan
I've recently returned from a week in Brittany, a peninsula in the north-west of France.  A year ago, I also traveled to Brittany, visiting many towns along the northern coast of the peninsula.  This time around, my focus was more on the southern coast. Brittany has become one of my favorite travel destinations, particularly during the early summer.  The towns are in bloom with hydrangeas and roses yet are not yet at their July and August tourism peaks.
We arrived in Paris after an overnight flight from New York.  After clearing customs and retrieving our luggage, we caught a train directly from the airport to Quimper, one of the larger cities in Brittany.  After a night in Quimper, we picked up a rental car and began our trip through Brittany.
One of our stops was the charming port of Doelan, located in the commune of Clohars-Carnoët.  I wanted to visit the port to photograph its green and white striped lighthouse and the boats in the harbor.
During the summer months, the sun sets very late here — after 10:00 p.m. local time.  I waited near the lighthouse to see what kind of light we would get from the sunset.  We had a nice burst of pink and orange as the sun dropped below the horizon, and I photographed it with the lighthouse: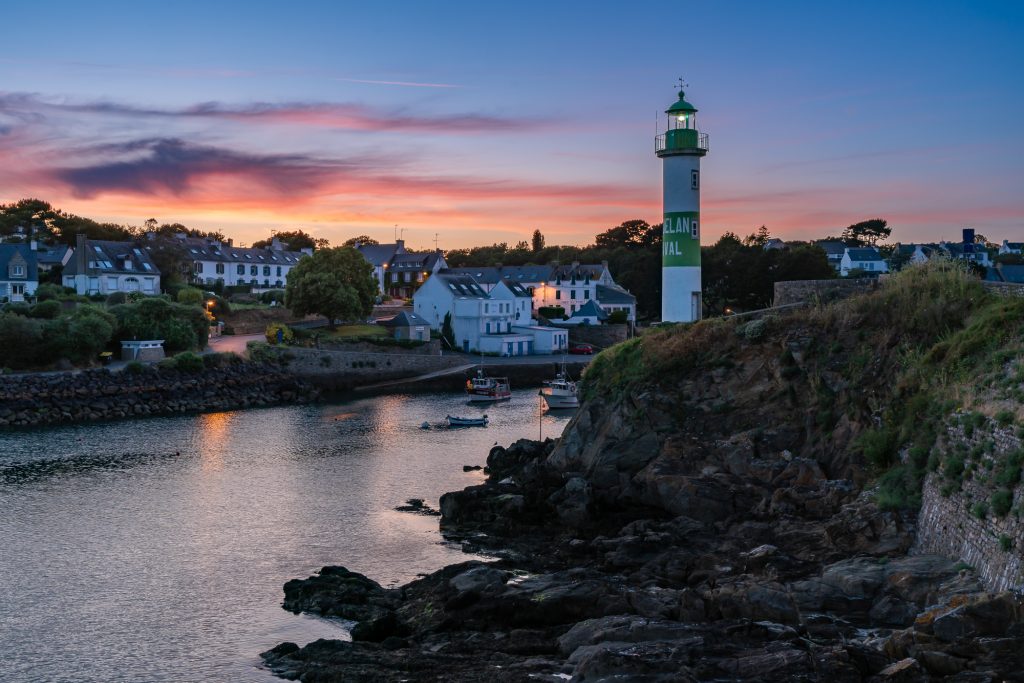 We enjoyed our night in Doelan.  We had a small house within walking distance of the port, and enjoyed walking on the trails which surrounded the harbor.  We visited several other wonderful towns along the coast, as well as spending two nights on an island (Belle-Ile-en-Mer) off the coast.