The Yellow Scooter
We spent a week on the Amalfi coast in April of 2022.  We arrived right at the beginning of the tourist season — April 1 — and had great weather and a wonderful time.  It's too early to swim (unless you're willing to brave the cold water) but the shops and restaurants aren't very full, and the temperatures are great for walks and climbing the myriad of stairs in the towns along the coast.
We ended our trip in Atrani, near Amalfi, but needed to catch a ferry to Salerno.  From there, we'd take the train back to Naples, then fly out the next morning.  As we walked the half mile or so to Amalfi on our last morning, I noticed a yellow/chartreuse scooter parked on the thin strip of asphalt which makes up the shoulder of the coastal road.  It had been there the day before as well, but the owner came out and rode away on it before I could grab a photo.
I thought the scooter would make a dynamite foreground for a photo of Amalfi, but this morning, there were two girls taking photos with it.  Plus, there was a large delivery van parked just down the road from it in a wide spot on the shoulder, blocking the view of Amalfi.  So we walked on by, and I thought about what could have been.
As we got closer to the ferry docks, I kept looking over my shoulder to see if that delivery van had moved.  It was still there.  We reached the docks and bought tickets for the next ferry.  I turned and looked and suddenly the van was gone.  I had about 30 minutes, so I immediately grabbed my bag and walked as fast as I could back up to the coastal road.  I got into position and shot about three frames before a car pulled up and parked right where the delivery van had been.  I had hoped to get a lower perspective shot, but it was not to be.  I was left with this one: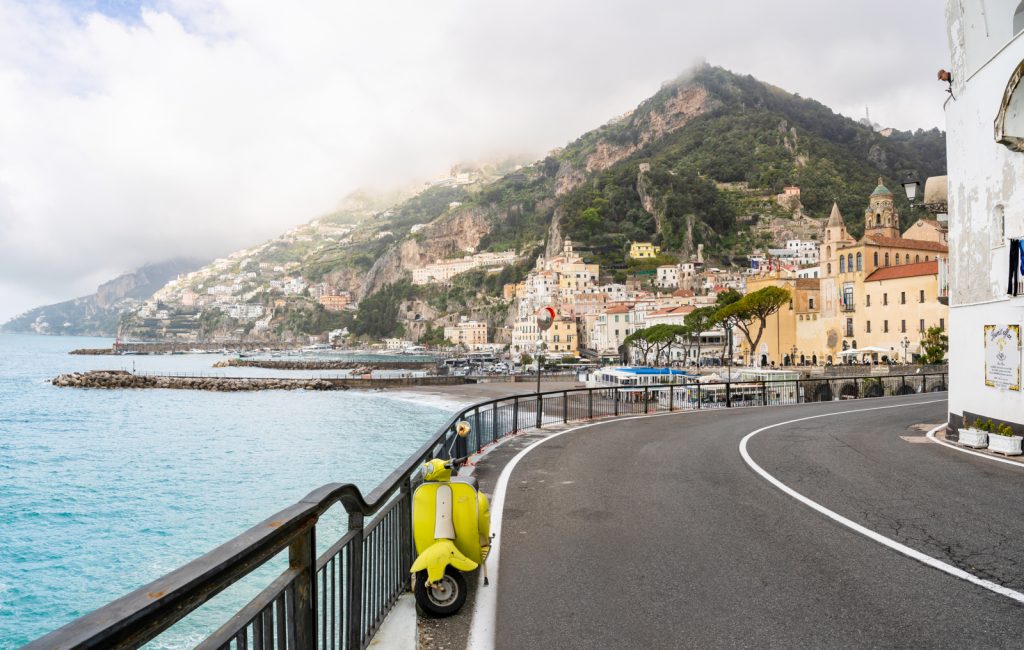 I waited a few minutes but the car didn't move, the driver seemed to be having a very animated conversation.  Sensing things weren't going to change, I headed back to the docks, arriving just in time for the ferry.  I'm happy enough with this shot, but wish the big white cloud hadn't move in and obscured the wonderful blue skies.