A Trip to El Tajín
During my May 2015 trip to Mexico's Veracruz state,  I was hoping to visit the ruins at El Tajín.  The only problem was that the ruins weren't terribly close to anything else I wanted to see — so it would likely be a long day trip, over four hours each way.  I decided to forego my last full day in Xalapa, where it had been raining almost continuously, and go for it.
The night before, I bought a bus ticket for 5:15 am from Xalapa to Papantla.  The cost was $276 pesos, and it would take about four and a half hours to arrive.  Ugh.  After a little trouble getting out of the hotel so early (the night "staff" was asleep and had the door locked), I made it to the station and caught my bus.  I tried to sleep, as I knew it was going to be a long day.  I'm not great at sleeping on buses, but I did catch a few cat naps during the ride.
Eventually we pulled into Papantla.  I walked out of the bus station and grabbed the first cab I saw, at a cost of 50 pesos.  It's not too terribly far, no more than 10-15 minutes outside of town.  The cab driver dropped me off near the entrance, in an area full of vendors who are trying to make a living selling t-shirts and other tourist goods to those who visit the ruins.
It was still pretty early, and it was a bit overcast.  I was one of the first people into the park that day.  Walking in, you first see some large grass-covered ruins.
The level of re-construction seems to vary greatly.  The city was at its height from 600-1200 AD, and was "discovered" in 1785 when a government official happened across the Pyramid of the Niches:
The Pyramid has seven stories, and is made of cut flagstone.
There are apparently 365 of the niches (I didn't count them), one for each day of the year.
The other structures were similarly interesting.  This one carried some of the similar design motifs, but in a very different shape.  It is known as Building 5:
Many of the structures were clustered quite closely together.  The site is not large, and you won't spend all day walking it.
Like every other ruin I've seen in Mexico, there was also a ball court:
Climbing a hill toward the back of the park gave you a higher-up view of things:
Of course, everyone wants their picture with the ruins in the background: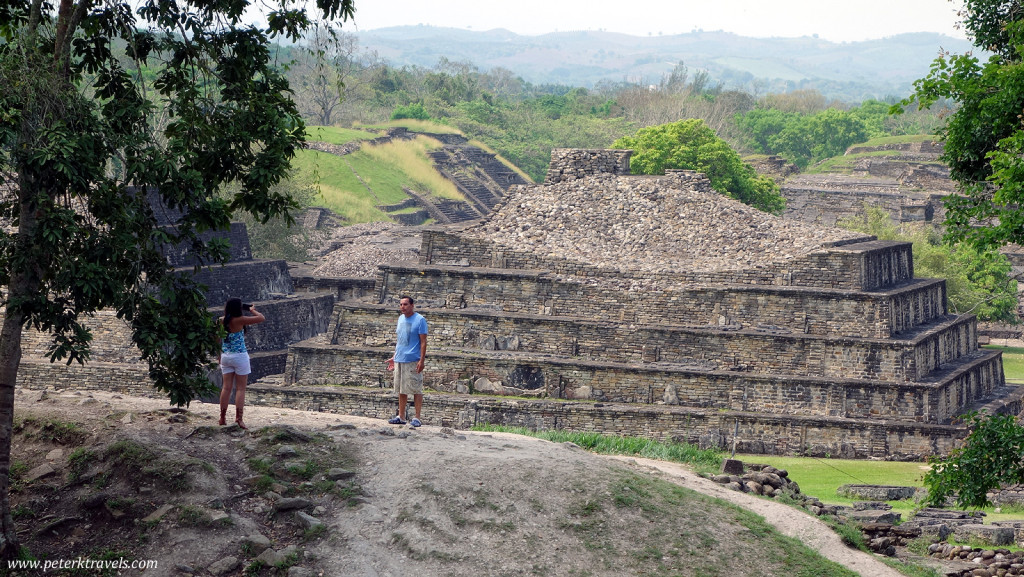 When I was done, I walked out and did a little shopping.  I ended up buying a t-shirt and a magnet.  I shared a cab with a couple locals back to town for 30 pesos, and walked around the main square in Papantla.  They have a nice church there, and the Voladores perform regularly.  The Danza de Voladores (Dance of the Flyers) is an ancient ritual where five men climb a 30-meter pole.  Four of the five participants then launch themselves upside down off the pole, tied only with a single rope around their ankle. The fifth remains on top of the pole, dancing and playing a flute and drum.  The four flyers slowly wind their way down to the ground.  You can see the Voladores on top of their pole here:
Here they are spinning down toward the ground:
When I was ready, I headed back to the bus station, which was a short walk from the central square.  I had already bought my return ticket, and after another four-hour bus ride, was back in Xalapa for the night.  It turned out to be a very long day, but I feel like it was worth it.  El Tajín is quite spectacular, and different from other ruins I've seen in Mexico.