Climbing Pacaya
As a part of my February 2015 trip to Guatemala, I was excited to climb Pacaya, an active volcano.  There are multiple ways to do this, but I picked the cheapest option — a collective tour that you can book at any agency for under $20.  The tours leave from Antigua at 6:00 a.m. or 2:30 p.m.  Due to the time of the year, I surmised that if I took the later tour, I would be coming down the mountain in the dark — not really what I wanted.  So I opted for the earlier tour.
I was picked up at my hotel around 5:55, and joined an Italian couple already in the van.  The van seated 14, and we filled it.  It was truly an international affair — Israelis, Italians, Germans, Chinese, a couple from New Zealand, a man from Spain.  I believe I was the lone American.  We spoke a variety of languages, and while our guide spoke only Spanish, I found him very easy to understand.  The trip from Antigua to Pacaya skirts Guatemala City, and took a bit over an hour.
When we arrived, we all paid the 50 Quetzal fee to enter the park, and were quickly on our way up.  Horses were optional – none of us chose them, instead walking under our own power.
As you start to go up, you get great views of the other volcanoes in the area, particularly Agua.  There were several overlooks where one could take fantastic photos.
After awhile, you finally clear the tree line and the views become more interesting.  Now, we could finally see the top of the volcano we were actually climbing:
As you can see, Pacaya is letting off quite a bit of gas.  That means we couldn't get right up close to the crater, instead skirting around the edges of the volcano.  We walked on ash, dust, and small volcanic rocks.  The views continued to be fantastic.
While climbing down from the higher points, the footing could be treacherous.  Some areas were nearly straight downhill, and losing your footing meant you could easily slide 20 or 30 feet downhill, with volcanic rocks quickly filling your shoes and finding their way into your clothes and backpack.
As we headed down the other side, we started to see more lava.  Our guide told us this was from multiple different eruptions, though it sounded like there hadn't been any new lava since 2010.
At one point, there was an excellent overlook where we were able to take photos and relax for a few minutes.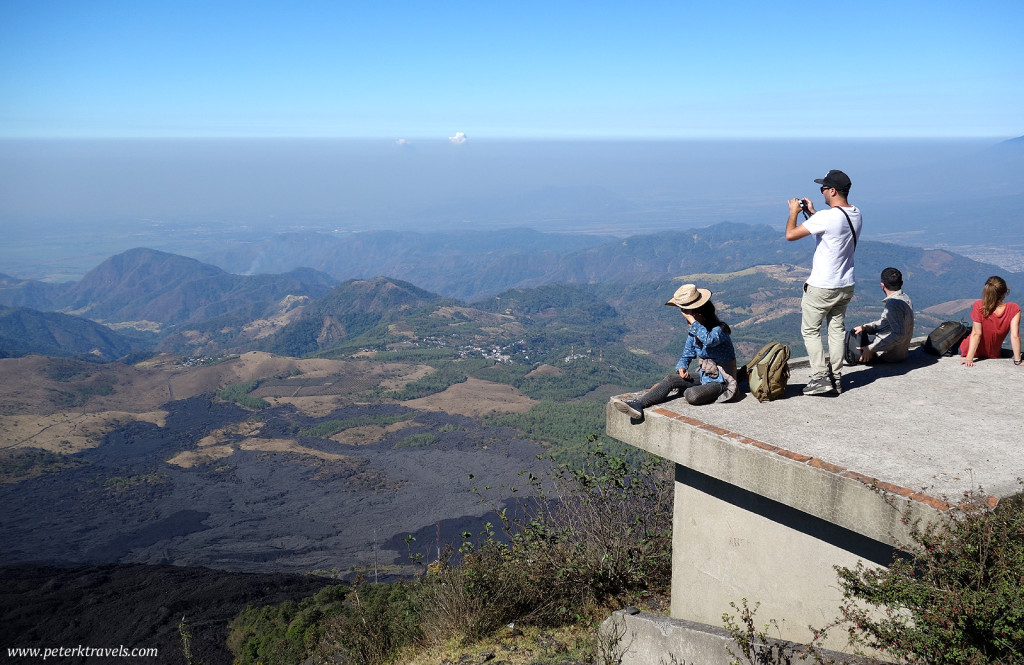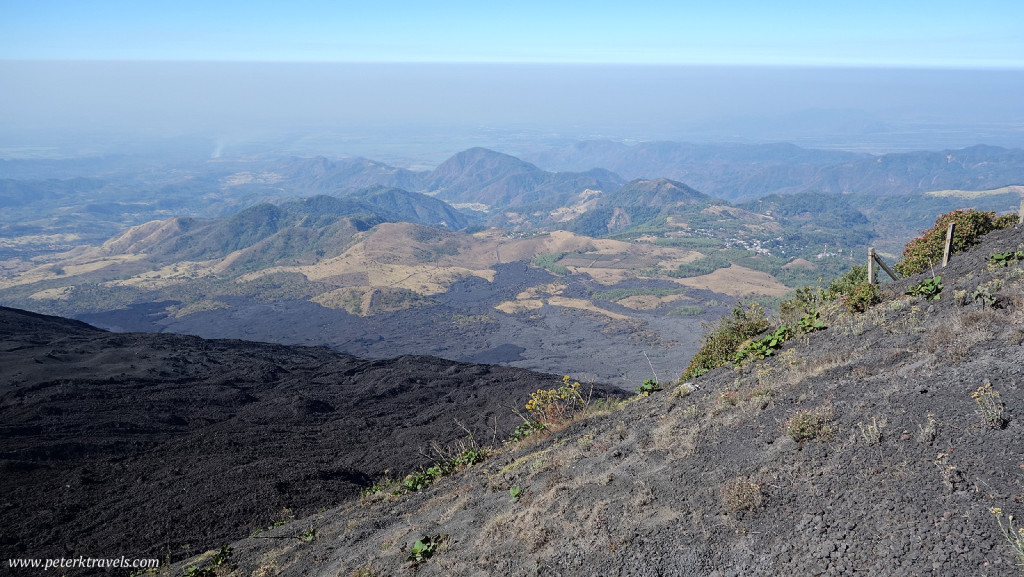 Although there were some trail markers, it was certainly best to have a guide along as the trails on the upper levels weren't well signed.
The altitude also gave an excellent chance to photograph Fuego, which was currently erupting:
We probably spent about a total of three to three and a half hours on the hike.  Everything is very rushed — climb climb climb to get somewhere, stop for a minute or two to take photos, then move on.  As we descended, it felt like we were running down the volcano.  To compress this into six hours (including transport to and from Antigua) requires doing everything at a breakneck pace.
It was also harder than I expected.  I'm not used to altitude, and there aren't really any hills around here, so climbing at altitude can be hard for me.   Pacaya tops out at around 8,400 feet, but you do start somewhat higher up on the volcano, so at least you're not climbing that entire amount.  I returned with sore quads, tired, and very dirty — but very happy to have gone on the climb!