The Coldest Day
Over the last few years, I have come to enjoy cold-weather winter photography.  Most of my trips have been to Michigan, which has lighthouses and interesting ice just a few hours from where I live.  Last year, I flew to New England hoping for cold weather, and while there was some fresh snow, it was mostly warmer than I had hoped.
This year, I booked a week's vacation in Maine in mid-January, reasoning that this would give me a good chance of cold weather that was needed for conditions like sea smoke.  Sea smoke forms when cold air moves over warmer water.  With sea temperatures of around 40 degrees, sea smoke will only form as temperatures drop close to zero or below.
As my trip approached, the weather forecast showed high temperatures in the low-40s — too warm for the sort of conditions I wanted.  I ended up cancelling my trip to Maine.  I went to Arizona instead to shoot photos of vintage motels.
A few weeks later, In early February, I read that New England was going to have an arctic blast of air — record low temperatures were forecast.  As this happened to fall over a weekend, I changed some things around and flew to Maine.
When I arrived in Portland on Friday afternoon, February 3, the temperature was five degrees and dropping.  I had a difficult decision to make — where to take a sunrise photo?  I decided on Whaleback lighthouse, which sits in the Piscataqua river between Maine and New Hampshire.  Its location would make it easy to record the sun rising behind the lighthouse.
I headed south from Portland to York, Maine where I briefly stopped at Nubble Lighthouse.  I could see sea smoke forming offshore, and the temperature was down to two degrees.  My plan was to spend the night just south of there, in Kittery.  I'd get up in the morning and drive to Great Island Common, a park on the water with easy access and a good view of the lighthouse.  I took a screen shot of the weather forecast for the next morning: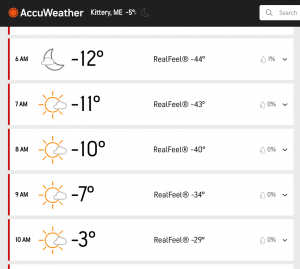 When I woke up around 5:30 a.m., a quick check of the weather confirmed the above — it was twelve below zero, with a windchill pushing -45.  The sun would rise at 7:00, about an hour after I left my hotel.
My rental car started fine but was very sluggish as I drove toward the coast.  When I reached Great Island Common, I was greeted with quite a scene — dozens of photographers out waiting for the sunrise and the sea smoke.  Whaleback lighthouse was visible in the pre-dawn light, and masses of water vapor swirled and clouded around it.
As the sun rose behind the lighthouse, the light from the sun lit up the edges of the sea smoke.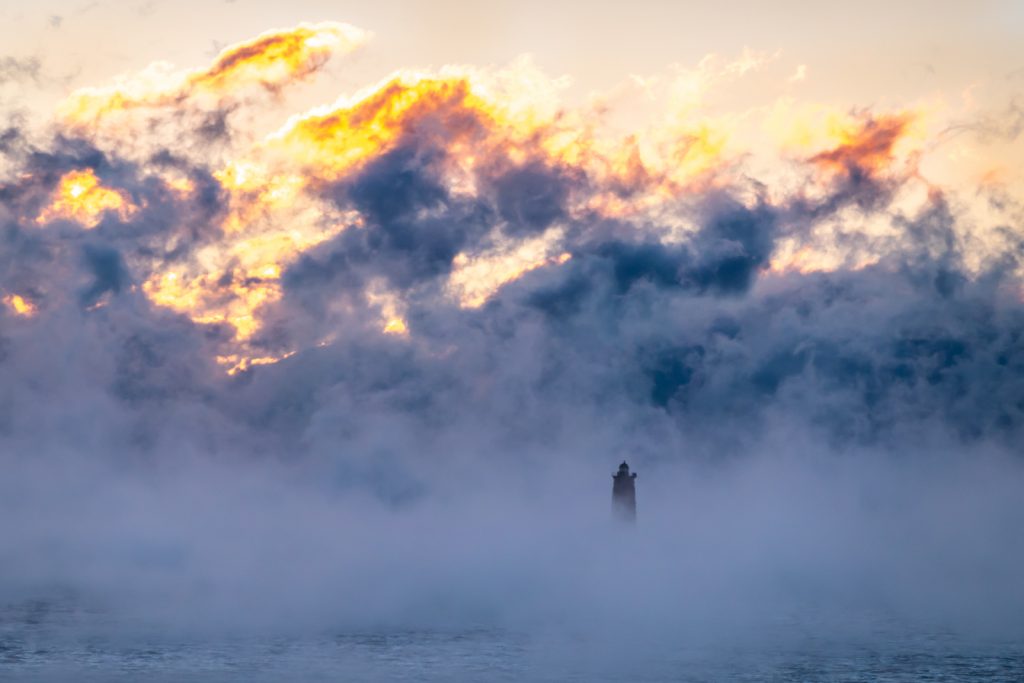 It was incredibly cold.  In temperatures this low, electronics can fail.  Batteries last a fraction of their normal life (I drained three batteries in about one hour).  After 30 minutes of sitting on a tripod, there was a thin sheen of ice across the back of the camera, and it was starting to act strange.  Some of the dials and buttons didn't work as expected.  Eventually, I realized the LCD was frozen and was no longer showing changes to camera settings, or the most recently taken photo. I put the camera into auto mode and kept shooting.  At about 50 minutes, the shutter started slowing down as if it were working in slow motion.  Afraid of over-exposing the photos, I switched to a backup camera for the last fifteen minutes.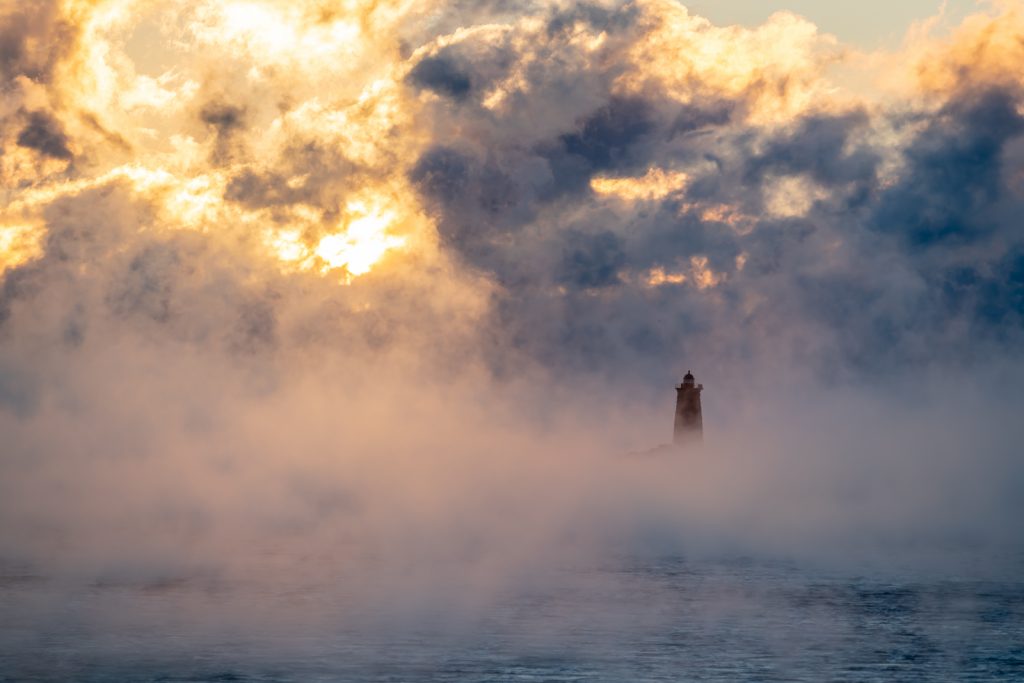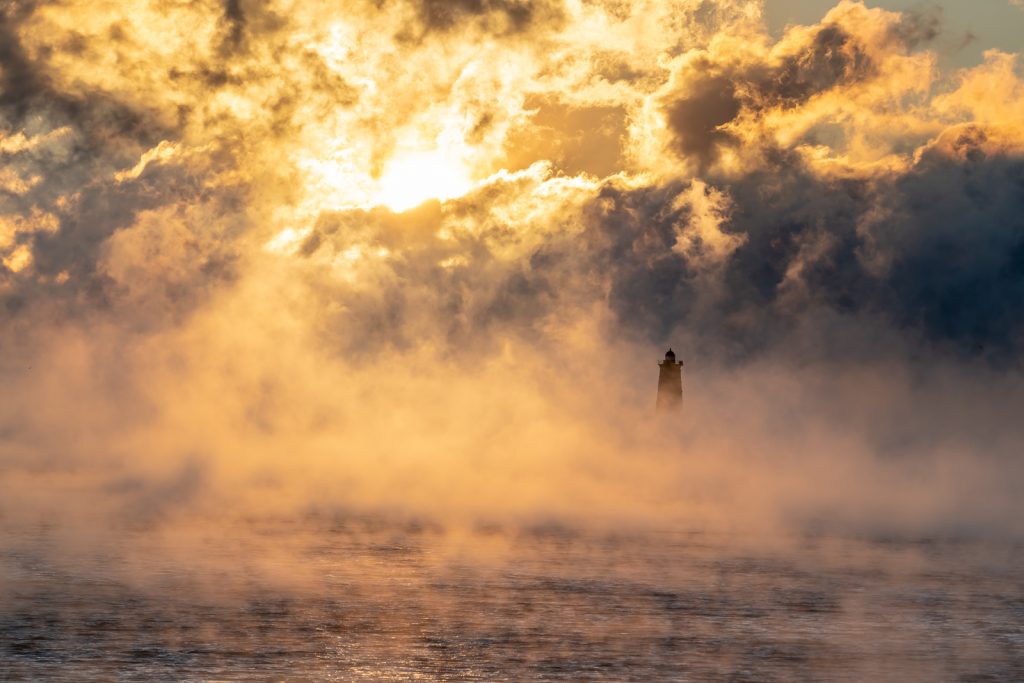 Another photographer who was there, Rob Wright, took a wonderful photo of the photographers at work.  While I'm not in this photo, I thought it provided wonderful context.  He was kind enough to allow me to use it here.
As the sun rose higher in the sky, the party began to break up.  Cameras went back in bags, tripods were put away, and cars moved off to other locales for more morning photography.  I, too, had other locations to visit. With the cold only forecast to last a short amount of time, the sea smoke would probably be gone by early afternoon.  I planned to go back north to Portland as quickly as possible to try and photograph Portland Head Lighthouse before the sea smoke disappeared, though I had a few other places I could stop along the way.  Here's one last look at Whaleback in the sea smoke as the early morning "golden hour" light filters through.