The Diving Lady
On a recent trip to Arizona, I visited a host of cities to photograph vintage motels and their signs.  One of those cities was Mesa, Arizona, which has a large number of vintage motels and neon signs.  Perhaps the most famous of these is the Starlite Motel, which has a 70-foot-tall sign with MOTEL spelled out, and a diving lady next to it.
When the Starlite opened in the late 1950s, pools weren't always common at motels.  The owners, looking for a competitive advantage, decided to commission a local graphic artist to design a neon sign that would advertise the motel and its swimming pool.  Each of the vertical letters of the sign are over six feet tall, and next to the MOTEL letters are three women in swimsuits performing an animated dive.
For decades, travelers could see this sign from miles away as they drove into Mesa.  In 2010, the sign fell on hard times — literally — when a storm knocked it down.  Upon examining the sign after the storm, all the neon was broken, and sheet metal crumpled.  A deeper examination showed that 50 years of wear and tear had weakened the sign considerably, and much repair would need to be done.  Insurance money provided to be too little to help, so the local Mesa Preservation Fund stepped in to bridge the gap.  After thousands of donations and several years of work, the sign was re-installed in 2013.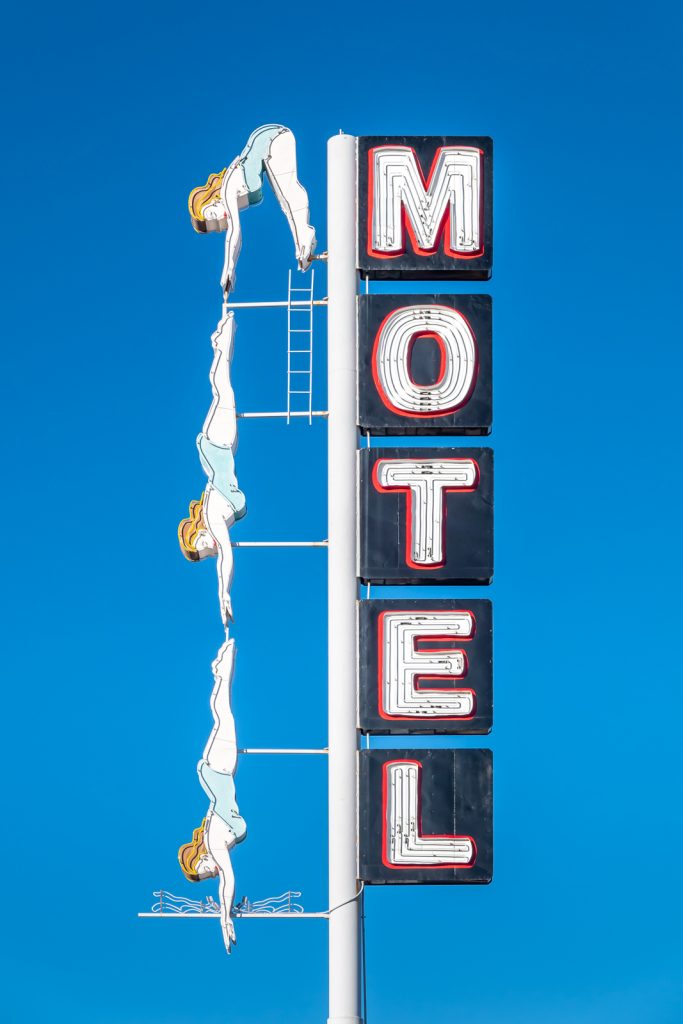 When I visited the sign in January 2023, it looked to be in good repair.  I decided to return at night and photograph the neon.  Unfortunately, when I returned only part of the sign was lit — the word MOTEL, but none of the diving ladies were lit.  It seems it's been broken again for a while now, and no one seemed to know if it was being fixed or not.  Hopefully it will be repaired and the diving lady will dive once more!