Comet Neowise and Point Iroquois Lighthouse
With international travel pretty much shut down for us at this summer, we decided to turn our attention to one of our favorite and local destinations — Michigan.  So, instead of a trip to Europe, we spent a week moving up the western coast of Michigan and into the Upper Peninsula.  Luckily, our trip coincided with the arrival of Comet Neowise.
Comet Neowise was discovered in March of 2020, and in July was visible in the northern sky beneath the Big Dipper constellation.  Dark skies in the Upper Peninsula with little noise pollution made the comet easier to find.  Though I had trouble seeing it with my naked eye, it readily showed up on my camera.
We traveled to Point Iroquois lighthouse one night during our trip.  I had spied a boardwalk along the beach that looked like it would provide an interesting leading line, and had hoped for a good sunset to photograph with the lighthouse.  Although we didn't get the sunset I had hoped for, I decided to hang around and try and photograph the comet with the lighthouse.
My goal was to get a photo of the lighthouse tower with the comet and its tail.  The Point Iroquois light is no longer an active navigation aid, so the main light doesn't come on.  However, the lighthouse keeper had installed some Christmas lights to provide some light on the lighthouse.
After finding the comet, I positioned myself in a way that allowed a vertical composition.  I didn't get much time — there were clouds, and the comet sunk into them within a few minutes.  I was quite happy with this photo: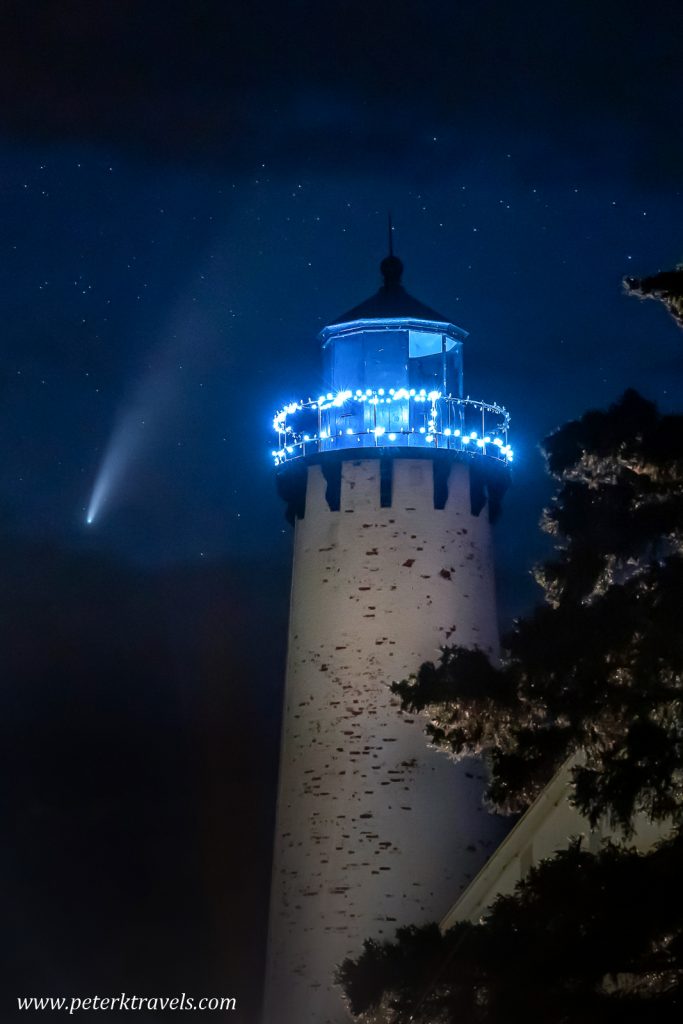 A large pole mounted light and a security light on the lighthouse caused a little interference and uneven lighting, but I think this still turned out quite well.  There were quite a few other photographers out that night, but most were shooting wide angles and trying to get the entire lighthouse in the photo.  I decided to use a longer focal length and isolate the tower, and I think that decision paid off.