Museo Galería Virreinal de Guadalupe
During my July, 2013 trip to Zacatecas, I wanted to visit to the Museum of Guadalupe. The museum is in the municipality of Guadalupe, just a short distance from the city of Zacatecas.  I had intended to take the bus, which can be found by Placa Bicentenario, but it was raining heavily and we weren't sure where we'd have to get off.  So, we took a cab from the centro area of Zacatecas, which only cost $40 pesos.
The museum is located inside the former convent of Guadalupe. The convent was founded in 1707 by the Franciscans. It has a beautiful baroque facade. The convent is made of cantera rosa, a pink quarry stone also used in many of the buildings in Zacatecas. The intricate Baroque-style carvings are made by immersing limestone in water for several weeks until it becomes soft and can be carved. Then, as it dries in the hot sun, it becomes a hard stone again.After serving as a monastery for many years, the convent was repurposed several times. In 1918, it was declared a national historic monument and opened as a museum.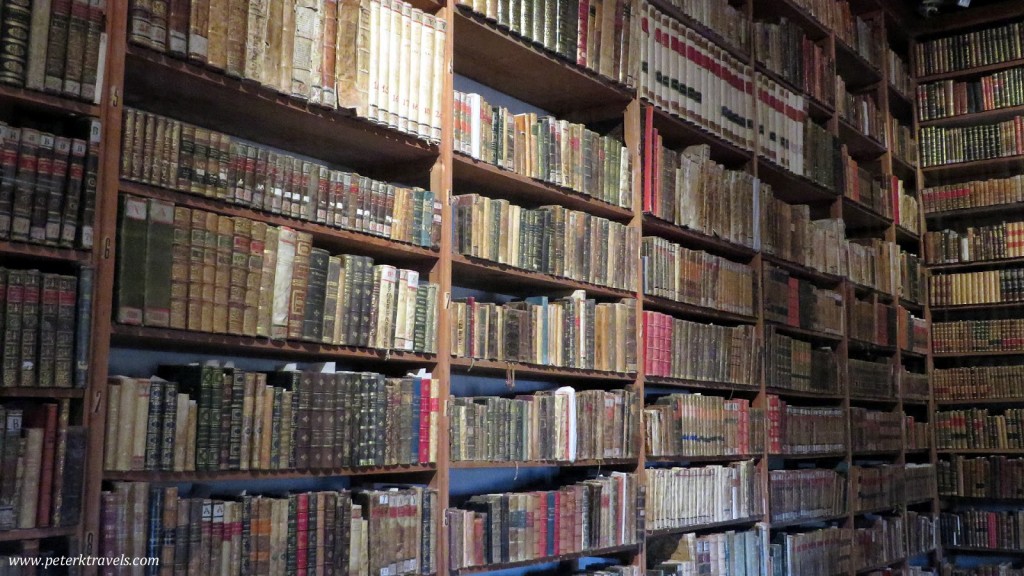 The museum features a 10,000 volume library, some of which is on display. Most of the volumes date from the 18th and 19th century. The oldest volume dates to 1529.
The convent also contains a choir chamber with fine, painted and gilded chairs. This was not open the day of our visit. If the security guard is to be believed, it is only open on Tuesdays or by special appointment. We happened to visit on a Sunday, and although admission was free, most of the museum was closed off. A transportation section exists, it was closed as well. A beautifully decorated chapel, Capilla de Napoles also exists — again, closed. So this visit was a bit of a disappointment.
What was available was the religious artwork in the common spaces of the museum. The museum has over 800 pieces of art, from such notable local artists as Miguel Cabrera, José de Ibarra, Nicolás Rodríguez Juárez, Cristóbal de Villalpando, Juan Correa, José de Alcíbar, and Luis Juárez. The walls are covered with many paintings:
Although this art isn't exactly my style, I did enjoy looking at it. As much as anything, I enjoyed the convent itself. It really is a stunning building, a beautiful example of the local stone used in baroque architecture. Here are a few more images. As always, click any image for larger versions of all images.