Arco Santa Catalina Before Dawn
It's been a couple of years since I've been to Guatemala, but Antigua remains one of my favorite places to visit.  Hopefully, when we're back to being able to travel, I can visit again.
We visited Antigua in 2018 for the Easter holiday.  Antigua is packed that time of year, with many people coming from Guatemala City and other places to see the wonderful Easter processions.  Because it was so busy, I was getting up early to take photos before a lot of people were out.
The Arco de Santa Catalina is probably Antigua's most-photographed landmark.  The arch dates from the 17th century, and allowed nuns to pass across the street without going outdoors.  It crosses 5th Avenida Norte, which is usually closed to vehicular traffic on weekends.  For the best photos, try to be there on a Saturday or Sunday morning.  There won't be any cars parked on the street, and earlier in the day, you'll have fewer other tourists around.  On a clear day, you can see the Volcano Agua looming behind the Arco.  This photo was taken 30-45 minutes prior to sunrise.  The lights on the Arco will turn off when it gets a bit lighter.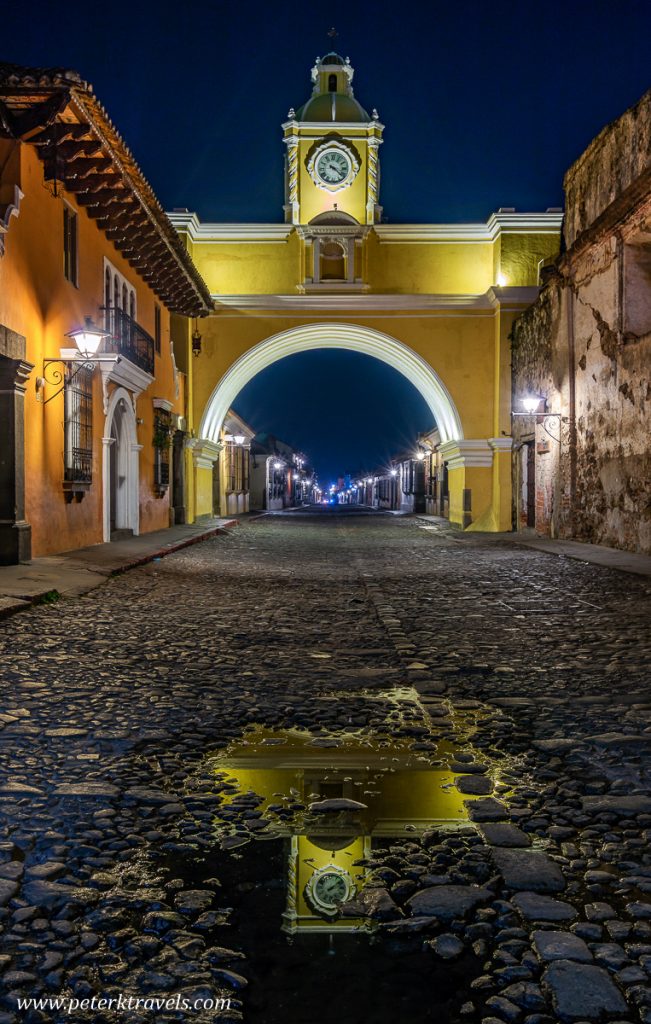 There's almost always a puddle of water on this street as well, it seems.  So it's fun to use the reflections in a photo.  You need to get down really low to make the reflected image larger (sometimes laying on your stomach).  Here is another Arco photo with a much greater emphasis on the reflection.