Hunting for Cempasuchil Fields in Atlixco
I've seen some really great photos from the Cholula and Atlixco area of the large marigolds locally known as cempasuchiles.  These tall marigolds are grown for Dia de los Muertos celebrations and are usually used to decorate graves in cemeteries.  I was aware they were grown in this area, and I reasoned that they would be at peak bloom in mid to late October.  So I traveled to the area a few weeks ago with a goal of photographing the fields, hopefully with the volcano Popocatepetl in the background.
Although I knew they were near Atlixco, I wasn't exactly sure where the fields were.  I had studied a lot of photos, mostly on Instagram, and identified some areas where I thought fields might be.  I reached out to some local Mexican photographers, hoping for help, but that didn't materialize.  I ended up using Google Earth satellite view to identify some of the possible locations, it's usually pretty clear where fields are.
When I arrived, the weather wasn't terribly cooperative.  I wanted clear skies, so that the volcano would be visible.  My second afternoon in Atlixco, the skies started to clear, so I took a taxi out to the highway and had him drop me off near an area of fields.  A couple were planted in corn, but It didn't take long to find a field of marigolds.  This field had a nice view of the volcano, as well as the tall hill Cerro San MIguel, which has a small chapel on top.
I took quite a few photos, this is probably one of the best.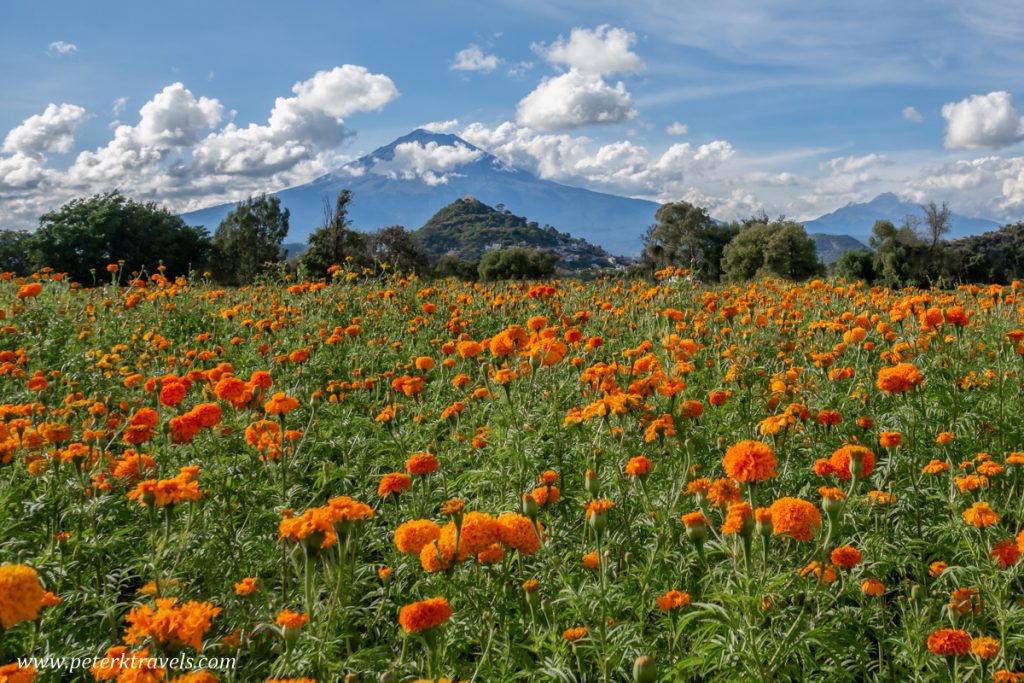 I'll probably return to this area next year.  I'd like to have more time to look for fields outside Cholula.  I think there are better views to be found near the villages of Nealtican and San Nicolas de los Ranchos.  However, without a car, these would be difficult to visit.
The flowers are usually offered for sale at florists and in mercados, then used to decorate graves.  These photos are from another trip, but show how they are used.