While visiting Italy in July 2019, I decided to make Atrani my base for three nights.  Why Atrani?  It's a beautiful town, and just a few hundred meters away from the much more popular Amalfi.  While Amalfi is overrun with people, Atrani is much calmer.  I wanted to find some nice vistas in Atrani where I could photograph the church and town at sunset or during the blue hour.
On my last day, I climbed up about 500 steps above the town, eventually reaching another small town named Castiglione.  It was about 90 degrees with 75% humidity, I was soaked in sweat.  However, the view from the small plaza in front of the church in Castiglione was perfect for a light trail photo.  As cars came down the coastal road, they would brake, and the lights would flow around the church.  I decided to come back around sunset.
Later that evening, I climbed back up the steps, and set up my tripod.  As the sun went down, I timed the cars as they entered my camera's viewfinder.  It took about 30 seconds for them to move through the composition.  I set the camera for a 30 second exposure, and waited until it got darker.  These photos don't always turn out — cars drive too fast, too slow, stop, turn, or otherwise do unexpected things that mess up the light trails.  So it's important to keep trying.  I watched for headlights coming into the frame from the bottom right, and then released the camera shutter hoping the car would travel through the entire frame within 30 seconds.  I took a couple dozen photos, and I think this one is the best: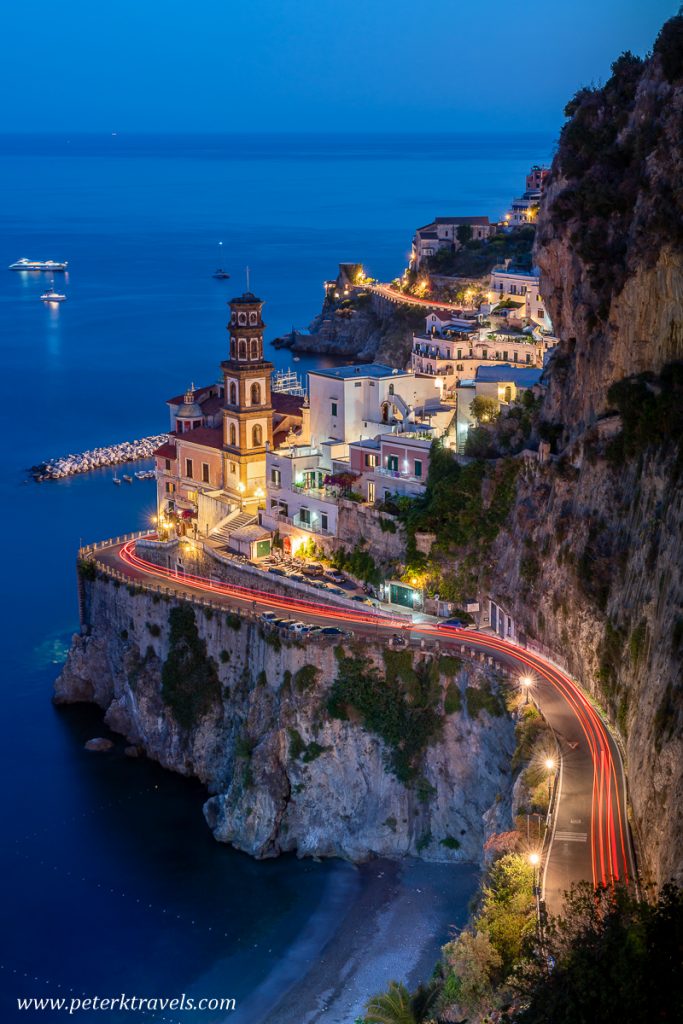 There were a couple of cars and mopeds that formed these light trails.  They were all moving away from me — no oncoming cars with white headlights.  Another segment of the coastal road is at the top, and that segment has both headlights and tail lights.
There's a bit more of a "back story" to this photo.  When I arrived at the plaza to take the photo, a church service was just letting out.  I was hot, tired, and really just wanted a peaceful hour or so to take the photo.  That was not to be!  It turned out that a small festival was to be held that night, in the same plaza.  A sound system was set up.  Many more people arrived.  Food was delivered.  Shortly, a party was going on just a few feet behind me!  Not the quiet night I had expected.  I'm sure they thought I was strange, focused so much on my camera!