In February 2019, I took a trip to the Los Altos region of Jalisco, Mexico.  I've spent a lot of time in many of the more popular Mexican cities over the last few years, and I've always had a great time.  But, I needed something new, somewhere off the beaten tourist track.  I was flying into Guadalajara, so I looked for places within a couple of hours bus ride from there.  My first stop was Arandas, which has a beautiful neo-gothic church.  From there, I took a short second-class bus ride on Flecha Amarilla to Jalostotitlán, or Jalos, as the locals call it.
The bus terminal was on the outskirts of town, five or six blocks from the main square.  I walked from the terminal toward the square, and got a room at Hotel Sergios.  I wanted to stay at Sergios because it looked like they had a roof terrace.  After asking, I was told I could go up there whenever I wanted.  I often pick hotels based on location and rooftop access.  I shot some photos from the terrace that night, and also went up the next morning as the sun was coming up.  There was a beautiful pinkish or magenta light that morning, and I got a beautiful shot of the main church with the plaza spread out in front of it.  I was a little restricted by the edge of the terrace, but I think this turned out well.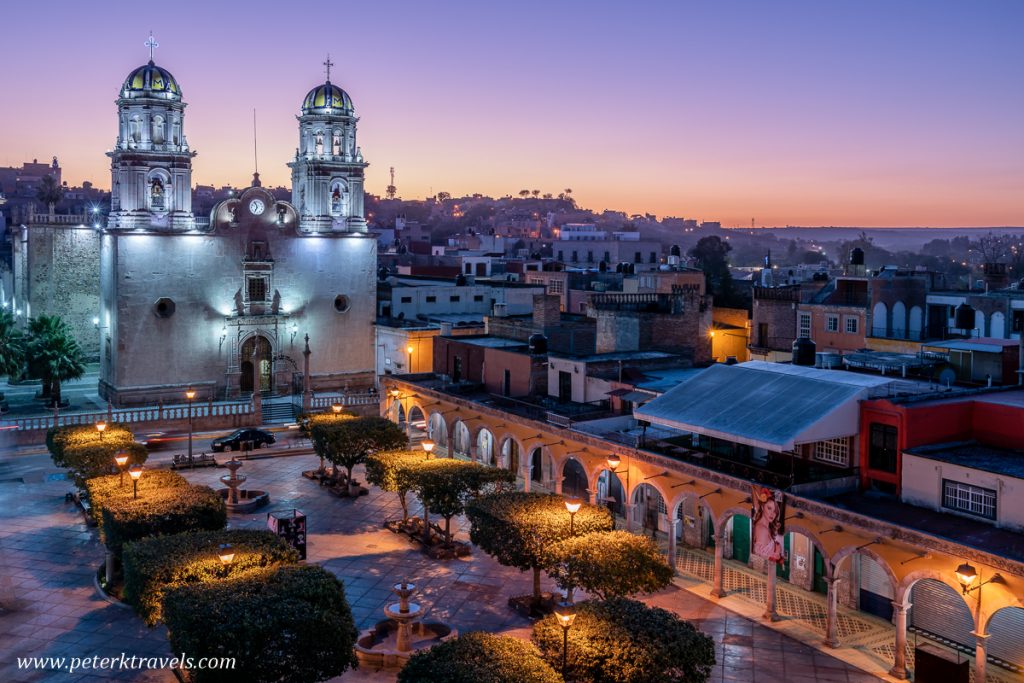 Jalos was a really nice town.  It was warm and sunny (much needed when coming from the cold Midwest USA winter), and the people were friendly.  It's certainly not on the normal tourist's radar, it isn't in any book.  But if you're ever in the Los Altos region, check it out.  It's only about 20 minutes away from San Juan de los Lagos by taxi.