Our Lady of Guadalupe, Zamora
During my February 2019 trip to Jalisco, I decided to take a detour to Michoacan, a state I hadn't visited in awhile.  My goal was to spend a night in Zamora, which is the home of the Cathedral of Our Lady of Guadalupe.  This Cathedral was finished just a few years ago, and has the tallest towers in Mexico.
I took a Primera Plus bus from Guadalajara to Zamora, which took a little over two hours.  The bus terminal in Zamora is a bit outside of town, so I took a cab (40 pesos) to my hotel.  I had booked a room at the Hotel Terrass ahead of time, know that it had a good view of the Cathedral.
I spent the rest of the day exploring, there are quite a few nice churches in Zamora.  There are also quite a few pedestrian-only streets, with good shopping.  I had lunch in a nice vegetarian restaurant.
That evening, my intent was to take a photo of the Cathedral from the plaza in front, but I found that there were no lights on the Cathedral that night.  I was told that they only turned on the lights on Fridays and Saturdays (it was a Monday) — what a bummer!
The following morning, though, I did take a photo from the fourth floor of the hotel.  While the Cathedral isn't lit, the light was still pleasant and I think this photo turned out reasonably well.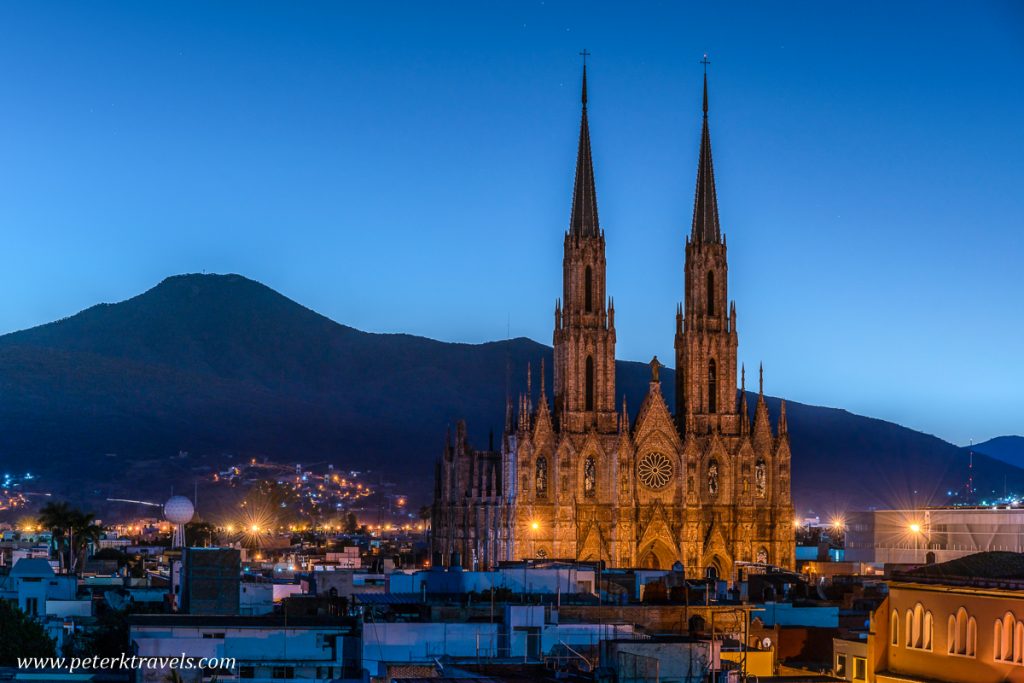 I will probably return to Zamora later this year (on a Friday or Saturday) because I really want to see this Cathedral lit up!