A Beautiful Day in Camogli
We've recently returned from a trip to Italy.  We visited tourist favorites like Florence, Pisa, and the Cinque Terre villages.  The least touristy place on our trip was Camogli, a beautiful town on the Ligurian coast, north of the Cinque Terre.
During planning for our trip, I read many reports of how busy the Cinque Terre would be during the summer.  Wall to wall crowds were the norm.  I figured we might want to escape the crowds at some point, so I searched for a place that might be nearby — within an hour, say — a place that looked beautiful and walkable from a train station.  After using Google Earth to examine the coast, I settled on Camogli.
We took a direct 7:30 a.m. train from our base in Vernazza, arriving an hour later.  The beach area is just a few minutes walk from the train station.  On our arrival, we were met with a beautiful view of the town:
Here's a closer view of the church and fort that sit guarding the bay:
Walking into town, you pass several beach clubs.  While these were quiet at 8:30 a.m., by the time we left later in the afternoon, the beach was packed.
On the other side of the church is the harbor which houses fishing boats and ferries.  The brightly colored boats, water, and pastel buildings in the background were perfect for photos.
Continuing past the harbor, you can walk uphill and out of town.  The view back toward the harbor is beautiful:
After exploring for a while, we walked back toward the beach and had lunch at one of the many Focaccerias.  Here's a few more photos from Camogli: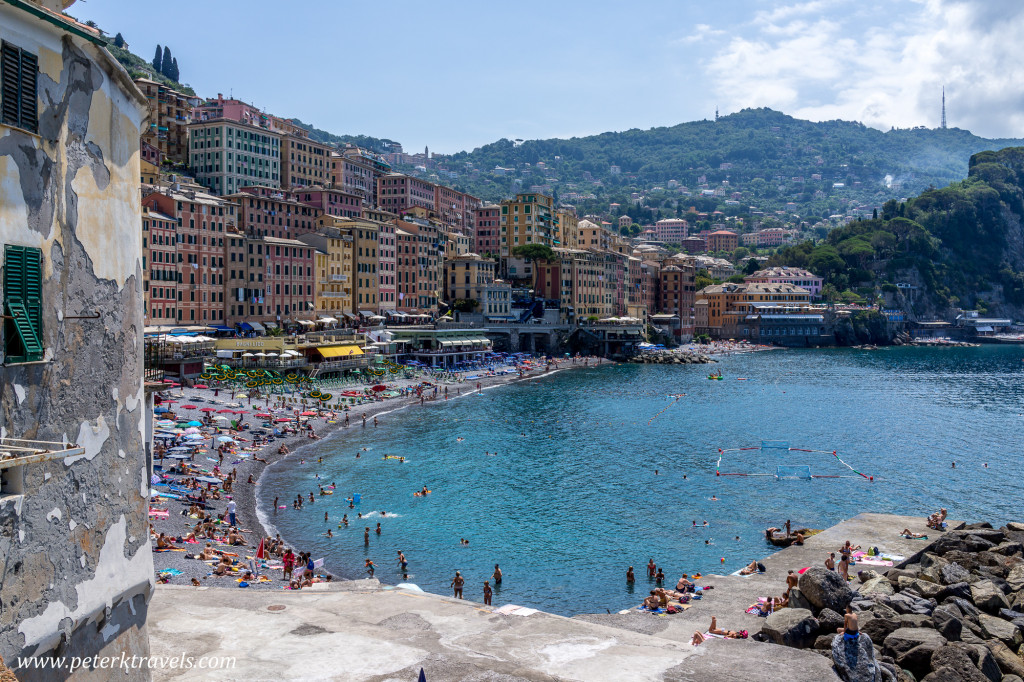 We stayed in Camogli until the mid-afternoon, when we caught a train back to Vernazza.  We really enjoyed our time — some great food, shopping, and the people were really friendly.  I think this would be a great place to stay for a few days.  It's a beautiful town and not nearly as busy as the Cinque Terre towns further south.